Planning Ahead:
Intellipass Staff will not be available for calls or visits to the office Thursday morning, June 27th, from 9 am until Noon.
Intellipass will be closed in observance of Independence Day, Thursday, July 4th!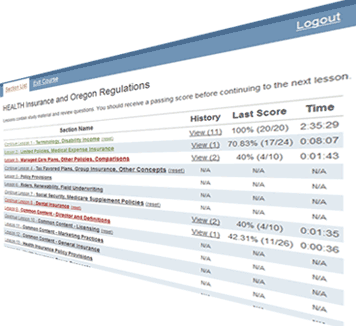 Excellence in Insurance Education for the Professional
I took your class for WA Disability a few weeks back. I took the test today and PASSED with flying colors. I previously took the class from another school and failed the test miserably before I took your class. Thank you for really explaining what we needed to know for the test. I am a proud Intellipass supporter.

C.P. - Student
Intellipass has an awesome system for learning insurance. The in class instruction in combination with the tools you have available online is the key to your success.

N. C. Student
It is amazing to me that you and your team actually have created an incredibly detailed and relatively brief program that is comprehendible and can be retained by your students.

M. S. Student
You did a good job of preparing us. I thought the brilliance of your teaching was that you gave us the BIG picture.

C. D. Student
I've had the opportunity to experience a variety of training courses in the past...and would rank your program among the best ever!

R.B. - Insurance Agent
...you'll be my first and only choice for my further training needs.

D.H. - Insurance Agent
I passed both Property and Casualty exams with flying colors. Thanks to your thoughtful instruction, I felt confident and relaxed.

E.P. - Executive Vice President
I think INSUREPASS is the only way to learn the required knowledge to succeed and successfully pass...

S.L.G - Insurance Agent
I really think that besides all the good things your school offers, the most important one is the obvious caring attitude you display toward all of your students.

A.S. - Insurance Agent and CPA.
I'm writing to say a great big 'THANK YOU' for assisting me as I start my new career.

A.H. - Insurance Agent
Quick Links
Intellipass/Insurepass realizes that passing the state exam is only the beginning. For someone new to insurance, a good feel for the industry and general financial knowledge is essential to the prospective producer's retention and future success. Our educators are knowledgeable, experienced and come with a high regard for the insurance industry. These critical attributes are passed down to our students.
Why Intellipass?
We have been providing insurance education since 1982
Our products are the most effective pre-licensing educational tools in the insurance industry
"Outstanding results"
"The professionalism and courtesy of the people at Intellipass is unmatched in our industry." T. B. CLU and hiring manager