Oregon Pre-licensing Education Courseware
Place your order by clicking on one or more of the courses listed below. You may enroll in each line of insurance separately; or, to save money, you may enroll in two lines of insurance (Life and Health, or Property and Casualty) or all four lines of insurance at the same time. The computer tracks your time used in the course. After you complete the State required 20 hours of online instruction for each line of insurance, you will be able to download and print a Certificate of Completion. You will need a Certificate of Completion for each state exam you are taking. Learn more about Oregon pre-licensing requirements. Learn about the courseware features.
Online Cancellation and Refund Policy
Program Development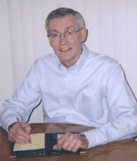 The Oregon courseware was developed by Phil Blomgren. Phil has nearly twenty years of insurance experience. Phil had his own insurance agency and taught pre-licensing insurance classes to students entering the insurance industry for four years.
For further information on this course, email Phil at: philb@intellipass.com

or contact Intellipass toll free at: (1-800) 821-8326